Are You Ready for Vinyl Replacement Windows in Irving, TX?
It is an exciting time to get started with home upgrades, and our team at Foster Exteriors Window Company is here to help! We offer vinyl replacement windows in Irving, TX and the surrounding areas, and there are a number of reasons why you should consider our company for these renovations. Customer service is always our focus, and we ensure that you will receive high quality windows.
Here at Foster Exteriors Window Company, we have worked hard to build a strong reputation in Irving, TX. We earned an A+ rating with the Better Business Bureau, and we were also awarded the Super Service Award from 2005 until 2014. You will see that we are dedicated to maintaining a high quality reputation, and we want to offer you the products that you deserve.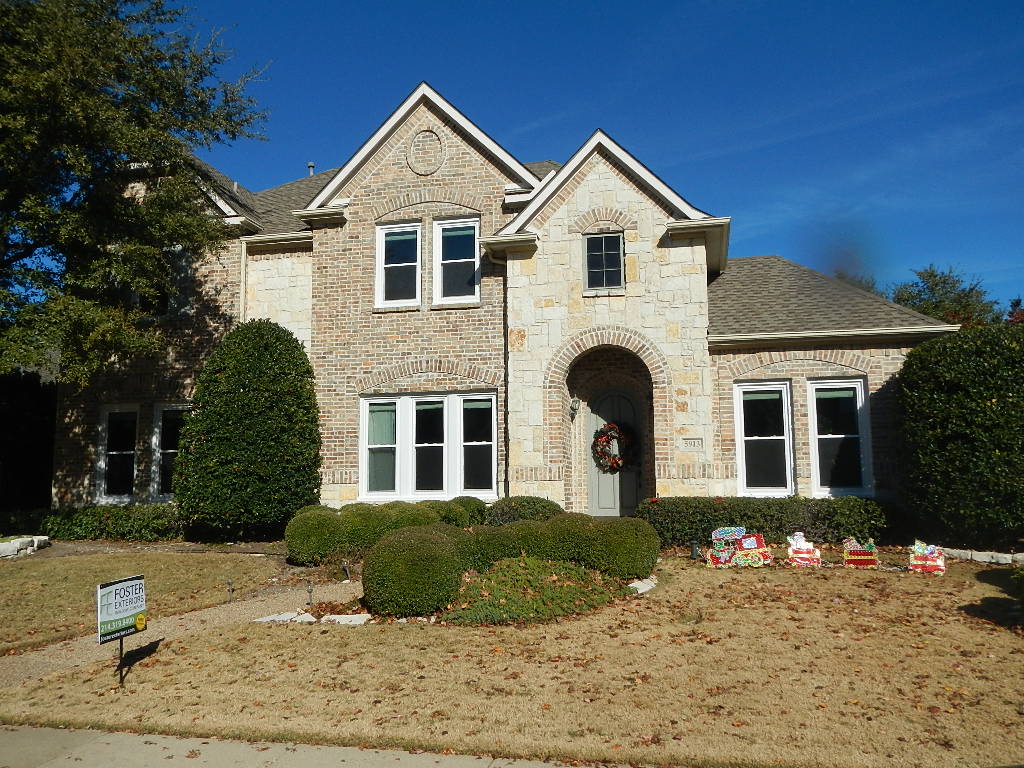 Are Vinyl Replacement Windows Right for You?
When you are shopping for replacement window, it is essential that you consider all of the options that are available. Since you will be investing money into these home upgrades, it makes sense that you should get the job done right. You will see that there are many different types of windows to choose from, but a certain kind will stand out from the rest: vinyl.
Vinyl replacement windows are a very cost effective way to improve your home. When you are on a budget, you should consider the benefits of vinyl. But, just because you are saving money on your replacement windows, doesn't mean that you will be sacrificing quality. In fact, vinyl windows are rated higher than other kinds of replacement windows. Vinyl replacement windows are built to last, and you will see that they hold up well for many years.
The Appearance of Your Irving, TX Home
How do you feel about the overall appearance of your home? Do you look at the property with a smile on your face, because you know that you have a nice home to host family and friends? Many people are embarrassed about the appearance of their home, because older properties can start to look run down over time. Instead of feeling ashamed about the quality of your home, it is better to choose a few home improvement projects that will help you create the home of your dreams.
The appearance of your home matters, because it impacts the first impressions that people will have when they visit. Here at Foster Exteriors Window Company, we offer a variety of different styles and colors, and these vinyl replacement windows can help you create a beautiful home.
When you are making the decision about the types of replacement windows that you want, you will see that there are a variety of colors available in vinyl. Select the colors that will look best on your home, and make sure that you choose colors that will look good for many years. Once the vinyl windows have been installed, it isn't possible to change the colors by painting the window frames. These windows are built to last, so you will have the same color of window frames for many years.
Energy Efficiency from Vinyl Replacement Windows
One of the biggest benefits to choosing vinyl replacement windows is the energy efficiency benefits in your home. When you choose these windows, you will notice a decrease in your monthly utility bills. Even though you are spending a bit of money for the initial installation of the windows, you can start to recover your investment because of the decrease in utility costs. These savings will really add up over time!
Old windows make it hard to manage the energy efficiency in your home, especially since the windows are drafty and poorly insulated. As a result, your air conditioner will need to work hard throughout the day to maintain a comfortable temperature on a hot summer day. On the other hand, vinyl replacement windows are energy efficient, so they help to insulate your home and reduce the amount of energy that you are using.
As you are can see, there are many benefits to choosing vinyl windows in your home. When you are getting ready for these home upgrades, when we invite you to contact our team at Foster Exteriors Window Company. We will stay by your side every step of the way, to ensure that you are completely satisfied with the finished product when we are done. We understand the importance of communication, and we will talk with you about your goals and budget for the project. For more details about vinyl replacement windows in Irving, TX, call us at Foster Exteriors Window Company to schedule your complimentary in-home consultation. You can email our team at [email protected], call us at (214) 319-8400, or visit our office located at 1350 N. Buckner, Suite 216, Dallas, TX 75218.