Are Vinyl Replacement Windows Right for Your Richardson, TX Home?
INSTALLING QUALITY, ENERGY STAR® RATED WINDOWS AT REASONABLE PRICES IN RICHARDSON, TX SINCE 1987
WHY FOSTER EXTERIORS:
Family owned and locally operated

In business for 33 years

Products made in the USA

We are accredited by The Better Business Bureau, and have an A+ rating.

We are an Energy Star® Partner dedicated to providing quality products that enhance the environment.
We offer only the finest brands in replacement windows and patio doors in the Richardson, TX area. Our company was built on three strong principles; Quality Materials, Quality Workmanship and Reasonable Prices. Get a Quote Now and Call (214) 319-8400!
When you choose vinyl replacement windows in Richardson, TX, you will see that there are a variety of benefits that you will be able to enjoy. It can be a big decision to choose the right types of windows for your home, so you should take a close look at the benefits of vinyl replacement windows.
Here at Foster Exteriors Window Company, we have a long list of happy customers who love their vinyl replacement windows. Our company has been in business since 1987, and we have worked hard to stay up-to-date with design trends in the home improvement industry. We focus specifically on vinyl replacement windows, because we love offering a product that will make every customer happy.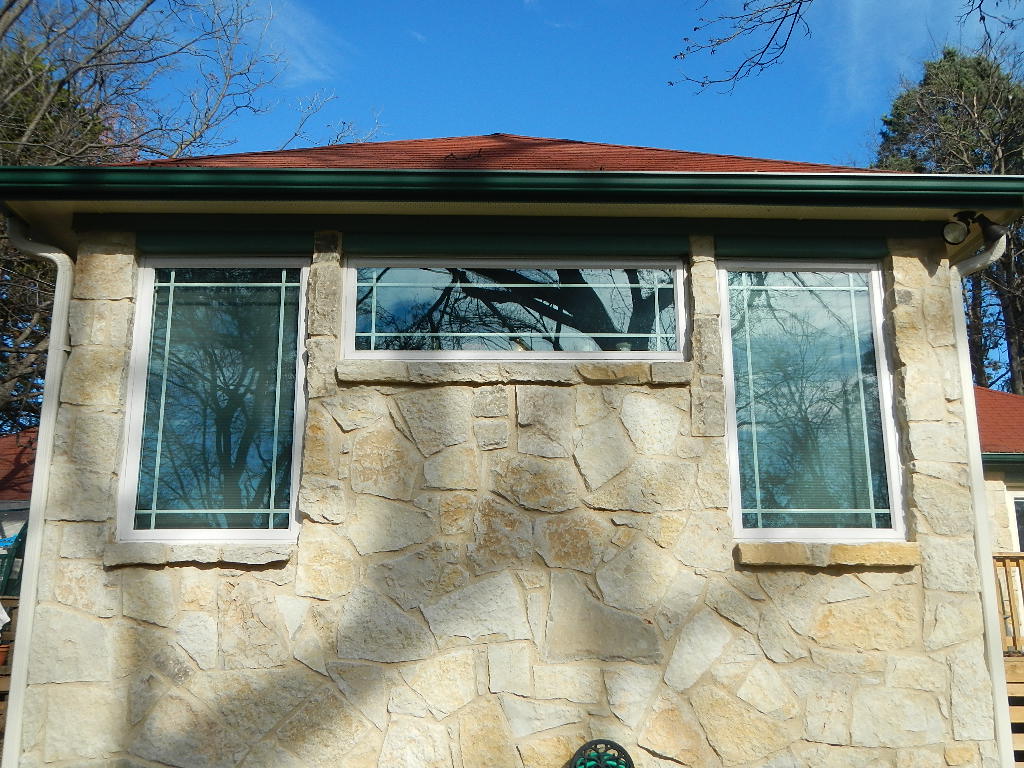 Is it a Good Time for Vinyl Replacement Windows?
One of the common questions that we hear from our customers is about timing of the window installation. How do you decide if your windows really need to be replaced? One of the best things that you can do is call us at Foster Exteriors Window Company and we will schedule an appointment to visit your home. During this in-home consultation, we can inspect your current windows and make recommendations about the timing of your home upgrade projects.
The truth is that right now is the perfect time to upgrade most windows. If those windows will need to be replaced in the near future, then there is no reason for you to delay these home upgrades. Choosing to get started on the project right away means that you will be able to enjoy the benefits of these windows as soon as possible. We have an experienced team that can quickly work through the project, minimizing the amount of time that we need to be in your home. This project will be scheduled around the availability on your calendar, to decrease the interruption of your family.
Why Do You Need New Windows?
Over time, a home can start to look run down and neglected. Even if you are doing your best to keep up with regular maintenance, old windows can look shabby and outdated. It is important that you maintain a high quality home, in order to give your friends and family the right impression when they come over to visit.
Another reason you might consider replacing the windows in your home is because you are looking for a way to change the style or design of the property. Do you want to give the property a facelift in order to modernize the appearance? These replacement windows will have a direct impact on the appearance of your home, helping you to create the home that you have always dreamed about.
Energy Efficiency Upgrades for Your Property
Have you thought about the energy efficiency within your home? Energy efficiency matters, especially if you want to manage the costs of your monthly utility bills. Here at Foster Exteriors Window Company we can help you choose the right energy efficient windows which will make a difference to decrease the amount of time that your air conditioner needs to run during the day.
Most homeowners have two main motivations for energy efficiency upgrades: protecting the environment and saving money. If you are worried about the way your daily habits are impacting the environment, then you need to talk with our team at Foster Exteriors Window Company. We specialize in energy efficient vinyl replacement windows, and we know that these upgrades will help to decrease your energy usage.
After vinyl replacement windows are installed in your Richardson, TX home, then you will notice a decrease in your monthly utility bills. Energy costs can really add up, especially if you are running the air conditioner throughout the day. Instead of spending a lot of money on utilities, consider the advantages of investing in energy efficient home upgrades. When you see the utility bills go down, you will know that you are recovering the investment that you made in your home.
High Quality Vinyl Replacement Windows in Richardson, TX
Quality matters, especially when you are installing new windows in your home. Don't make the mistake of settling for subpar windows just because you want to save a little bit of money. Instead, it is better to choose the best products that are available, so that you can improve the overall quality of your home.
When you are ready for high quality replacement windows, then we invite you to contact us at Foster Exteriors Window Company. We always focus on quality and affordability, making it possible for you to enjoy these home upgrades without breaking your budget.
If you are thinking about vinyl replacement windows in Richardson, TX, then you need to contact us at Foster Exteriors Window Company. We can schedule a consultation in your home to look at your current windows and find ways to improve the quality. Learn more by emailing us at [email protected], calling our office (214) 319-8400, or visiting our office at 1350 N. Buckner, Suite 216, Dallas, TX 75218.
REPLACEMENT WINDOWS DOORS FAQS
Question 1: How to Avoid Spending Too Much on Replacement Windows?
Answer:
Here are a few ways to avoid overspending on this major window replacement project:
Set Your Priorities Up Front – Before you start looking into replacement windows, it's a good idea to make a list of things you really want in the windows. Perhaps you know you want a certain window type or a certain material. Once you know what you want in windows, you can avoid adding extras you don't really need, which will only drive up the costs.
Consider Materials With Care – You'll think about everything on your replacement windows carefully, but when overspending is a concern, materials matter more than anything else.
Remain As Basic As Possible – There are plenty of options for replacement windows, but if you want to avoid spending too much, stick with basic choices. If you get special shapes, odd colors, or style upgrades, you'll pay more for the windows.
Remember Your Climate – The heat in Texas reminds you that you need windows that can fend off high temperatures. When you get windows that will do that and only that, you can avoid overspending. You don't need windows that are good in a snow storm because those are so rare they're not worth planning for. Learn more.
Question 2: What are the Benefits Of Installing Quality Replacement Windows?
Answer:
Here are just a few of the many benefits you'll get from installing quality replacement windows:
Reduced Energy Consumption – When you seal your house up with quality replacement windows, you can reduce the amount of energy your home uses.
Lower Energy Bills – You can really lower those bills by choosing high-quality replacement windows. Using less energy lowers bills and your energy usage will significantly decrease, even if you make no changes in your home other than the new window installation.
Consistent Comfort – When you have air leaking in and out, one room might be cold while another is hot. After you get quality replacement windows installed, you'll notice that every room of the house feels the same—comfortable.
Higher Resale Value – Adding new windows to a home brings quality to that home, if you choose high-quality windows to install. Once those windows go in, the home is automatically worth more.
Question 3: How to Set a Budget for Replacement Windows?
Answer:
Choosing Replacement Windows comes with many choices, use this tips to get started budgeting for new windows:
Research the Styles – Research the different window styles and see how casement, double—hung and other options will fit into your home.
Prioritize Energy Efficiency – There are plenty of priorities that can fall into place with replacement windows. Consider important upgrades like triple pane glass, low—e coatings, and inert gas fillings. If you're on a budget, upgrade energy efficiency first and use what's left over for other additions if you can.
Remember Aesthetics – While there are a lot of features that are important on replacement windows, the way they look is a huge factor as well. There might be certain appearance features you really want, like certain colors, just the right hardware options and so on.