Having wood windows can mean that your home has a lovely look to it. Wood insulates the home and can have a warm, welcoming effect on a home. But, over time, wood can also wear out, warp, and even rot. You want windows that will continue to insulate your home and that might mean that once the wood starts to deteriorate, you might need window replacement in Plano, TX. While you can get wood replacement windows, you might want to switch over to vinyl materials. Vinyl is the most popular frame material on the market and there are lots of reasons why that's the case. Here are some reasons you might want to take your old wood windows and go to new, vinyl windows.
Reason 1: Take Maintenance Off The Calendar
Do you really enjoy maintaining your wood windows? Do you like to scrape off old paint and put on a new coat? Or is there something else you would want to do with your weekend? There are probably lots of things you would rather do. But wood windows take maintenance in order to continue insulating the home. Vinyl windows, however, don't take any maintenance. You can cross that chore off your list—for good.
Reason 2: Smaller Expense
Any windows you get are going to be an investment, but when you get vinyl windows, you are going to cut back on the costs for the project as a whole. You want quality materials in any windows you get, that's for sure. But when you get windows that are made from vinyl materials, you pay less and get more. You are able to get high quality with lower costs because vinyl materials are easy to manufacture.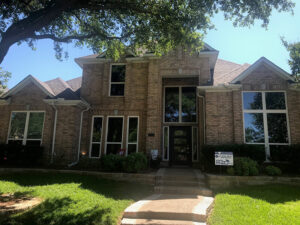 Reason 3: Longevity In Home Value
Any new windows are going to raise the home value because they are new, fresh, and efficient. But when you get vinyl windows, it's important to recognize that they will last a long time. Your home value will last for a long time and you won't have to worry about that value going down as time passes by. If you sell your house soon, you have that higher value. If you sell it in the future, you still have the value intact.
When you are ready for replacement windows in Plano, TX, it's important to understand that there are lots of different material options. You don't have to go with wood windows again because that's what you have now. There are good benefits to having vinyl windows as your replacements over wood. The professionals at Foster Exteriors Window Company are here for you, to answer questions, talk through options, and give you a free consultation. You can give us a call and see what you might want to do. You are able to stop by the showroom as well to look things over and see a few things that might work for your home. Our website has a lot of information as well and is a good place to start.