Replacing your home's windows is a great way to improve its overall efficiency and appearance. But before you start shopping for replacements, it's important to understand the different types of windows available and what will work best for your home. This guide provides an overview of the most popular window replacement options, so you can make an informed decision about which type is right for you.
Window replacement ideas are great because they allow you to customize your home's look and feel. You can choose between windows with different shapes, sizes or colors – which will match the rest of décor in any room. These changes also improve insulation for better energy efficiency while keeping cool during hot summer months without sacrificing warmth when winter arrives again every year too soon without extra heat sources around just yet.
What do you call a windowless room?
A room without windows is typically called an interior room or an office. Rooms without windows are often used as dens, bedrooms, home libraries, or studies since they can provide for more privacy than rooms with windows.
What rooms should have windows?
It is important to have windows in most rooms. This is because natural light helps our physical and emotional health. It helps us regulate our circadian rhythm, makes our spaces more inviting and comfortable, and can even boost our productivity.
There are a few exceptions, of course. Rooms that need to be kept dark for photosynthesis or film-making, for example. But in general, we should try to get as much natural light into our homes as possible.
Can you have a bedroom with a window?
Yes, you can have a bedroom with a window. However, you may need to get creative with your window placement if you want to allow for natural light and ventilation. If you are lucky enough to have a room with a large window, consider putting your bed under the window. This will let you use the natural light and fresh air. If your bedroom is on an upper floor, consider installing a skylight or putting a desk or chair in front of the window so you can work comfortably.
Room by Room Window Replacement Ideas
Getting replacement windows in Plano, TX is a big deal and there are some windows that work better in certain rooms of the house than others. You are the decision-maker in this process and you get to put together the windows you want in every room. But the professionals have a lot of experience and they can make suggestions based on your budget, your home, and the goals you want to meet. Here are a few ideas that could help you customize your windows based on the room of the house you are working within.
Picture Windows For The Living Room
Your family probably spends a lot of time in the living room and it's nice to have a lot of natural space in that room so you can get that large, welcoming feel. Depending on where the room is situated in the house, you might have a nice view of it as well. A picture window might be a nice window to have in that space so you can let in natural light and see the view. Think about placing operating windows around it, too, so you can get ventilation when you want fresh air.
Casement Windows For The Kitchen
The kitchen is the heart of any home and while you might want a lot of light and ventilation options, there's not always a lot of wall space to offer. Skylights work well, but if you have room over the kitchen sink, a casement window is always nice. This window cranks open and gives you the largest amount of ventilation since the window can catch the breeze and bring it into the house. It's also easy to reach the crank to open the window over the sink.
Bay Windows For The Dining Room
If you like to have family over or have a large family, to begin with, having enough space in the dining area can always be a struggle. Consider a bay window for that space because not only does it look great in that room, but it actually gives you more room. These windows jut out of the house and can give you more elbow room in the dining area. They also bring in a lot of natural light and can ventilate the area well.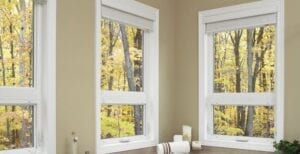 Double Hung Windows For Kids' Bedrooms
Your kid's safety is of utmost importance to you and if they have bedrooms on the second floor, double hung styles might be the best option. These windows can be opened from the top down. You can leave the bottom half closed and locked so your child doesn't have an accident. Plus, these windows can be tilted into the house for cleaning so you can easily get the dirt and grime from the outside off from the interior of the home without trouble.
Getting replacement windows in Plano, TX is a huge project and you want to think about every room of your house with care so you get the right things everywhere. The professionals at Foster Exteriors Window Company are here to help.
Window replacement is a huge project that should not be taken lightly. You need to think about every room of your house and what you want in each one. The professionals at Foster Exteriors Window Company can help you with this process and make sure you get the right windows for your home. They have been in business since 1978 and know how to help their customers get the best product for their needs. If you are considering window replacement, call Foster Exteriors Window Company today.
Window Replacement FAQs
What gets replaced when you get new windows?
There are a few things that get replaced when you get new windows. The most obvious one is the glass panes, but there are also the frames, sashes, and window treatments. Depending on the type of window and the age of your home, you may also need to replace the Drywall or other structural support surrounding the window.
How long does it take for window replacement?
If you're simply replacing the glass in your windows that can be a fairly quick and easy job that doesn't take much time. However, if you're replacing the entire window – frame and all – that's going to take significantly longer. Window replacement can be a big job, depending on how many windows you're replacing and what kind of condition they're in. If your windows are old and in poor condition, it might take a few days or even a week to replace them all.
Should I replace my 20 year old windows?
While it is technically possible to replace your 20 year old windows, it is not necessarily the best decision from a financial standpoint. Depending on the condition of your windows, you may be able to get by with repairs or simply weather-stripping and caulking them to improve their energy efficiency. Replacing windows is a major investment, so you will want to be sure that it is truly necessary before taking that step.