When you need to get replacement windows in Plano, TX, what you want and need for your house is different than what someone else you know might need and want. That's partly why there are so many options on the market. Everyone is different and every home has different needs. As the homeowner, you get to decide what's right for your home. But here are a few things you might want to line up with your new windows to ensure they are the right fit.
They Fit Your Budget
No window is going to be the exact right window if it's not within your budget. You will want to have windows that you can afford. If you overextend yourself and you can't afford the payments, or you use all of your emergency savings, that's not a good fit. That could stress your finances in ways you don't want to stress them. The right windows are going to fit your budget, even if they are standard windows. Standard windows are very high in quality today and can be a good fit.
They Meet Your Goals
Your windows need to meet your goals, whatever those might be. If you want a window that insulates your home against noise, only windows that do that will be the right windows for you. If you need windows that block the heat of the sun, the right windows are going to do that job. Decide what your goals are for your home and the right windows are going to be easy to find because all you have to do is match the windows to the goals.
They Look Great On Your Home
Even windows that meet your efficiency and other home goals are going to fail to be the right match for you if they don't look great on your house. You need windows with the right color and style to meet your home's overall look and feel. Certain homes look better with double hung windows while others do well with casement options. Most homes can accept white as the color, but you'll need to be more careful if you are going with another color.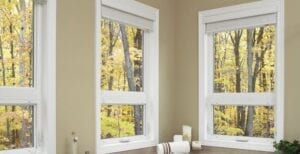 The windows you get for your home should be right in every way. You don't get new windows very often, in fact, you may never have to get new windows for this home ever again. They will last for decades and you want to be sure they will work well in every way.
When you are ready for replacement windows in Plano, TX, don't settle. Get windows only if they are right for your home in every way. That includes fitting your budget, fitting your goals, and fitting your style needs. Once you find a window that can do everything you want, then you can move forward with that window. The professionals at Foster Exteriors Window Company want to know the details you are looking for so they can help you match your home to the right windows for you in every way.