When you get window replacement in Plano, TX as the homeowner, you are free to do whatever you'd like. You can get all the same window style or you can mix and match. Most people get mostly the same style, with a few exceptions. They might put a bay or bow window somewhere or they might place a few picture windows. But the other windows are usually all the same style. Whatever you decide to do, you will want to compare the two most popular styles in order to make a decision for the majority of your home. Here are some details about casement and double hung windows to help you make a choice.
Efficiency
Any new window you are going to get will be highly efficient. When you compare any windows, look at the ratings labels. However, overall, casement windows win in the efficiency department. They are one single pane that swings open and closed. Their moving parts are limited and when they are closed and the wind blows, they seal tighter against the glass. Double hung windows have two sashes, so as time goes by, it's possible to have air leaks between them. But that will likely be a decade or more down the road and they are still a very efficient option.
Openings
These two window styles open very differently and that can make a big impact on your decision. Casement windows open fully at the same time as they crank open and swing out. That is very nice for ventilation and airflow. The windows can catch the breeze and draw them into the house. However, since they swing out, that can be cumbersome if they are sitting over a walkway. Double hung windows, on the other hand, are always flush against the house, whether they are open or not. You can open the bottom part, the top part, or both. Just opening the top is nice on an upper level, for safety reasons. And when you open both, you can get great airflow in the home.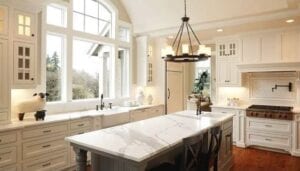 Maintenance
If you choose vinyl materials, neither window is going to need much maintenance. However, anything with glass will eventually need cleaning. Inside, the process is the same, but outside can be different. With casement windows, you'll have to be outside to clean them on the outside. That's fine on the first level, but if you have a two-story house that can be harder. With double hung windows, you can stay inside for the whole cleaning process, even if you need to clean the outside glass. Just tilt the windows, clean, then replace them.
Your project is completely your own and you get to decide what style you put on your replacement windows in Plano, TX, room by room, or all in one swoop. The professionals at Foster Exteriors Window Company are here to answer any questions you have about the styles, energy efficiency, and everything in between so you get the best results.