When you have started to plan out your replacement windows in Plano, TX, it is a good idea to list your priorities. For most homeowners, efficiency is at the top of the list. One of the biggest reasons you might get new windows in the first place is because your old windows weren't operating well and you want your home to be comfortable (and your energy bills lower). If efficiency is important to you, every decision you make can lend a hand in that direction. The material might be the first choice you make and, after that, the style. Which window styles are the most efficient? Here are a few to consider:
Picture/Stationary Windows
The windows that don't open and close are always going to be the most efficient. They have no moving parts and keep the air in and out easily. While you might want to place pictures or stationary windows in some places of your home, you will still need windows that operate as well. Put as many stationary windows in that make sense and then move down the list to the next most efficient thing from there.
Casement Windows
Of the windows that do open and close, casement windows are the most efficient. These windows crank opened and closed so the entire window swings out and opens at once. This is great for ventilation. When the windows are closed, they seal tightly against the house and when the wind blows against them, they seal even tighter to your home. That makes them highly efficient in any kind of weather instances.
Double Or Single Hung Windows
These windows look the same but operate slightly differently. Single hung windows have one stationary block and one moving glass pane. Double hung windows have two glass panes that can move instead of just one. They operate in a similar manner and they are efficient as well. When they are new, the moving parts are going to be tight as can be. If you keep them in good condition, that efficiency will last for years.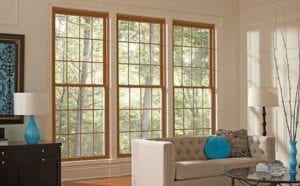 If you want windows that are efficient in every way, the material you choose and the style you end up with is going to be very important. But you will also want to pay close attention to the ratings on the labels the windows hold. Every window has a label and every label will tell you a story of how efficient that window is.
The professionals in the stores can help you with the efficiency levels of your replacement windows in Plano, TX. You can ask questions, get recommendations, and even look at the windows in person when you visit our showroom. At Foster Exteriors Window Company, our main goal is to make sure you are able to meet your goals through your new windows. If that includes efficiency, we'll make sure you get all of the right options from which to choose so you are completely happy with the installation results after the process is complete.