There are certain areas in your home improvement life where you might want to have a professional help you with things and there are other things you can do yourself. There are plenty of reasons to go one way or another and when it comes to getting replacement windows in Plano, TX, you will want to go with the 'yes' part of the equation. Here are some improvements and whether you should hire a professional or do it on your own.
Installing New Hardware—DIY
If you want to put new knobs on the kitchen cabinets, that's easy enough to do. You probably only need a little time and a screwdriver to get the job done. It's something you can do over the weekend and it can make a difference in the look and feel of the heart of the home. Unless you can't work a screwdriver very well, you can do this one on your own.
Plumbing Issues—Pro
If you have slow-operating drains, backups, pipe noises, or other plumbing issues that take something beyond a plunger, you may want to call a professional for those items. You need professional opinions and diagnostics or you might end up making things worse yourself, which means an even higher repair bill when that comes around.
Painting—DIY
Painting, while time-consuming, isn't that hard to do. You can certainly hire someone to do it for you, but it's also something you can do on your own. Get the right color, clear out the room, grab a friend to help, and go to work.
Electrical Issues—Pro
Electricity can be dangerous to work with and if you don't know what you are doing, that's not a good thing for your home or your safety. Getting a professional to help with installing an outlet or any other electrical issues is in your (and your home's) best interest.
Shelving Installation—DIY
You want a new bookshelf to display family photos and while it might take you a little time to make sure the shelf is going to be level and in the right spot, centered in the room, you are likely able to do that yourself without too much trouble.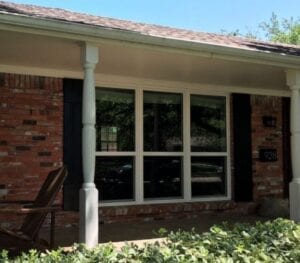 Window Installation—Pro
When you get new windows, the installation process is as important as the windows you purchase. You are going to want not only a contractor but a true window professional. When you work with a window company, they often have professional installers that have been factory trained and come with guarantees that will back up the window warranty as well. That's the best way to go to prevent anything from going awry and to give you the results you really want for your home.
When you are working on getting replacement windows in Plano, TX, the professionals at Foster Exteriors Window Company are here to help you through the process from start to finish. We will help you get things lined up so you will have the results you need and want.