If you are in need of replacement windows in Plano, TX, know that basic, standard windows are very high in quality today. Even if you stick with the basics, you are getting something that is going to change your home's efficiency levels, curb appeal, comfort, and many other things. That being said, there are also plenty of ways you can upgrade standard windows to be even better suited for your home. Standard windows have double pane glass with air fillings. You can upgrade those in one or more of the following ways:
Triple Pane Glass
Double pane glass is so much better than single pane glass it's impressive. But while double pane glass does a great job, triple pane glass is that much better. You can add a third pane of glass to the pack and in addition to the glass, there's also a space between the panes of glass. Three panes of glass and two spaces make for an impressive amount of insulation. If you want the best energy efficiency and even better protection against noise that comes in from outside, triple pane glass might be a good answer.
Inert Gas Fillings
Standard windows come with air fillings between the panes of glass and that's a nice insulator. But inert gases, like argon and krypton, are denser than air and they can slow down any air that tries to pass through the glass even further. That extra bit of time can make the windows all that much more efficient, saving you more money on energy bills and giving you further comfort in your home.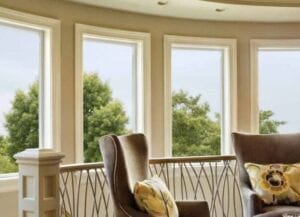 Low-E Coatings
If you want to let natural light into your home, there are tons of benefits to doing just that. But bringing in more light means allowing more heat in, too and you end up having to cover those windows to block the heat, even if you want the light. Low-E coatings are a great upgrade to combat that very issue. You can get the coating placed on the windows and they will block the heat of the sun while allowing the light through. They are metallic coatings that reflect heat and they also block UV rays so the items in your house will no longer fade. You can let in as much light as you want and no heat with it. The windows also keep the heat inside during the winter, which can heighten efficiency in that season as well.
There are plenty of other upgrades to consider when you get replacement windows in Plano, TX and the professionals at Foster Exteriors Window Company can help you by going through those items with you so you can figure out what might work best for you you your home's circumstances and your overall budget. If you only have the budget for one upgrade, the professionals can give you advice as to which one would do the most for your individual home to address the goals you have and the setup of your house. That advice can really help your overall happiness with the project.