Once you get through the choices and you decide which replacement windows in Plano, TX you want for your home, the last step is to get the installation done. That can be easier to think about than to actually make happen if you have a hyper busy schedule. When you aren't able to see a good fit on your calendar, here are a few options you have to help yourself get the windows installed sooner rather than later.
Have A Neighbor Let Installers In
While it's ideal to have you at your home during the installation, if you just can't be there that day, have a neighbor let the installers in to get to work. Make sure you are accessible by phone in case the installers have any questions or run into any problems. Perhaps your neighbor can somewhat keep an eye on things for you from next door or across the street, too.
Take A Long Lunch
Even if you have a busy day at work, you might be able to squeeze in a lunch break long enough to run home and see how things are going. Pack a sandwich you can eat on the drive and when you arrive at home, you will have time to address anything the installers need to know before you rush back to the office.
Get Arrangements Lined Up In Advance
You are going to want to make sure your home is ready for the installers, even if you can't be there when they arrive. That means taking pictures down from the walls that have windows on them and removing the window coverings as well. The installers should give you a list of things they want to have you do so they can get right to work when they arrive and not waste any time.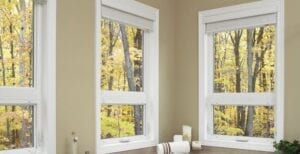 Designate A Family Member
Perhaps you have a family member who works at home and you could ask them to bring their laptop to your home on that day, let the installers in, and be around in case there are issues. It's nice to have someone home and they know how to get ahold of you easily enough that you can address things if they arise. You might feel more comfortable knowing there's someone home to watch how things are going.
If you really want those replacement windows in Plano, TX, you have to get through the installation process. The professionals at Foster Exteriors Window Company are willing to work with you on times and dates, but you will have to ensure that you are able to get someone to let the installers in, even if you can't. It's nice when you are at home in case something comes up, but that's just not always possible. Contact the professionals for a free consultation and start by choosing the windows you feel are best for your home. Then, you can figure out the installation process from there and move forward with the project you need to be done.