Texas is a great place to live in the winter months when it's much warmer than other parts of the country, but the summers can be brutal. If you want to have a summer this year that is much better than the one you had last year, that might mean getting replacement windows in Plano, TX installed. Here are just a few ways that new windows can help make your summer a better time all the way around.
You Save Lots Of Money
If you want to take a vacation, or even do more fun things around town, you might not feel like you had the budget for it last year. That could be, in part, because of how high your energy bills were. But when you get new windows installed, you are no longer wasting energy and your bills will go down and stay down. You can use that savings to go to the pool more often with the family or take a real vacation somewhere else. The money you save is an opportunity for you to do something else with it, whatever you want that to be.
Stay Cool Inside
If you mow the grass and then go into your house and still can't cool down, that's not okay. You should be cool inside your home when you are pumping AC through the rooms. But your old windows might not have allowed that because they let the air right back out. When you replace them, every room of the house is at the temperature you set on the thermostat. IT's nice to have an even temperature that you know will cool you down no matter how hot you get outside when you have to do chores, you go for a run, or even just race from your car.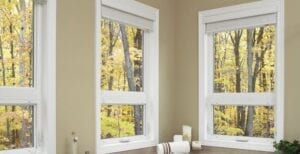 Enact Changes To The Home
There are opportunities within getting replacement windows that allow you to make your home a better, more comfortable place to live. The sun in Texas can be harsh in the summer months, but you hate to have to block all of the light from your house during the day. When you get new windows, you could consider certain upgrades, like low-E glass, which blocks the heat of the sun and lets the light through. That's a change that can really make your summer better, even when you are inside and cooled down.
There are lots of things that replacement windows in Plano, TX can do for your home any time of the year, but if you are currently in the summer months, or about to take them on, you might want to consider how new windows will make this summer better than last summer because of all of their benefits. The professionals at Foster Exteriors Window Company are here to help you with the process from start to finish. We can go over styles, colors, upgrades, and more to help you get just what you need for your home.