If you are going to get replacement windows in Plano, TX for your home, it's also a good time to look at a new front door. You can coordinate the effort, make your home as energy efficient as possible, and get something that looks welcoming and makes a good first impression on anyone who visits. You might find yourself attracted to doors that have glass in them, at least in one part or another. But is glass in the front door a smart way to go? It can certainly bring a lot to your home and there's nothing wrong with doors that have glass features. Here are a few benefits of them, actually.
Bring In The View
When you have glass in your front door, you can bring in more of the view from outside. You might like to be able to see when someone pulls into your driveway or when the sun is setting out that side of the house. You can see more and that can be valuable to you.
Allow More Natural Light
Any time you have glass, you are going to let in more light. If you'd like for your entryway to be flooded with light, you can get that effect with a front door with glass in it. It can make that space, which might be rather small, feel larger and look more welcoming at the same time.
See Who Is There When Visitors Arrive
When someone comes to your home, you might like to know who it is before you open the door. While peepholes are always a nice way to go, you can also have glass in the door so you can look through the door and see who is there before you answer the door. It ends up being a safety feature that can work to your benefit.
Raise Home Value With Beautiful Glass
The front door of your home can actually raise the value of your home when you get something that looks nice. New doors are going to be efficient and you can raise your home's value even more by putting something aesthetically pleasing on the front porch. Beautiful glass features can always draw the eye and raise a home's value.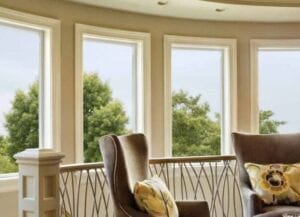 Safety Isn't An Issue
You might be concerned that people could break through the glass on your door and have easier access to your home, but that's not really an issue. The glass placed on doors is high in quality and you can even get an unbreakable glass that is just as strong as the door. You don't have to worry about it breaking and it gives you benefits at the same time.
When you are ready to get replacement windows in Plano, TX, you might want to consider a new front door at the same time—one that perhaps has glass in it. The professionals at Foster Exteriors Window Company can help you look into windows that will go along with the door you want.