There are lots of things to think about when you are ready for replacement windows in Plano, TX for your home. You want energy efficiency to be top of the line. You want your home to be comfortable and secure again. And, of course, you want the curb appeal to really shine. Choosing the right styles for your new windows is a vital part of making your home look great, fresh, and updated. Here are a few tips to help you find the right style to enhance your home's curb appeal.
Remember Architectural Style
The design of your home will need to look good with the window style. Whether you have a traditional or modern home, looking for windows that blend into and complement that style will help you get an overall exterior style that looks cohesive and well thought out.
Figure In The Purpose
You need to keep your window's purpose and functionality in mind at all times. If the windows look great on the outside, that's wonderful, but if they don't function well outside, that's a huge downside. You might want casement windows because they go with your home's style, but if the casement windows open up over the patio and get in the way, that won't enhance the overall style of the home in that area.
Accent Colors With Frames
Choosing the right colors for the frames is a big deal. It is the biggest choice you will make on appearance and it will last for as long as the windows last, assuming you get vinyl that you can't paint. You want to get this choice right. White is always a classic color and can look fresh and new on the home for a long time. Black is another popular choice to contrast the home and really frame the windows and show off their new appeal. But there are other more unique colors that can show off your sense of style as well. Whatever you get should make the exterior style pop and fizzle.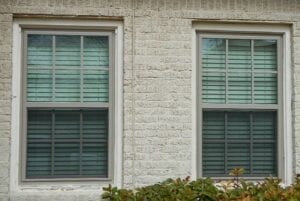 Remember Interior Style
Once you find windows that look great from the outside of your home, you then need to move inside the house and make sure they look good there as well. Windows show from both sides of the wall so it's important that the interior style shines as well.
There are lots of decisions to make with replacement windows in Plano, TX. Look at the curb appeal, the interior design, and much more as you make those decisions so once the installation takes place, you will be as happy as you can be with the results. The professionals at Foster Exteriors Window Company are here to give you as many details as you can handle so you have the information you need to make the right choices. You can call us any time for a free consultation or, if you're ready for a few steps, you can call with questions. It's great to come for a tour of our showroom as well to get ideas and feel inspired.