While the kitchen might be the heart of the home, the living room is where your family spends most of its time. Whether it's game night, movie night, doing homework, or something in between, it's important that the living room is welcoming and comfortable in every way. When you get replacement windows in Plano, TX, there are certain things you will want to do with the models in the living room so you can ensure you get what you need for that space.
Enhance Natural Light
Most rooms look larger, more open, and welcoming when there's plenty of natural light. Plus, natural light makes family members feel better, which is never a bad thing. It's nice not to have to turn lots of overhead lights on during the day just to be able to see. When you have lots of light coming through the windows, you don't need that. You might put in a picture window or add to the bank of windows to let in more light. Getting more light can be a huge benefit to space.
Focus On Comfort
Since the living room is where your family hangs out and relaxes, you want to make sure everyone is comfortable. That might mean that when there's a lot of light coming in, things get too warm with the Texas sun. But that doesn't mean you have to let the heat in, just because you want to light. Consider low-E coatings on the glass, even if you only do that in the living room, so you can block the heat and UV rays and maintain a wonderful level of comfort at all times in that room.
Style Matters
You want your windows to have a great sense of style, so they work well in the room. You will want the right color and style in the space to make an impact on the room. Remember functionality, of course, when you look at the style, the color, and everything in between. While the elements are all important, they need to come together to look nice in order to fit in well.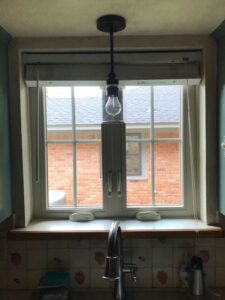 Family Functionality
Since the living room is a family space, you want the windows to function for the family. That might mean double hung windows so you can open the top half and leave the bottom half closed to keep kids safe. That might mean stationary windows in the middle of a bank and operating windows on the ends so you can have a good view and ventilation in one place. It's all up to you how you want things to function in that space.
If you are getting replacement windows in Plano, TX, all of the rooms are important. But the family room might feel even more so since you spend so much time there with your family, entertaining friends, and even just relaxing. The professionals at Foster Exteriors Window Company will help you put together the options until you have everything lined up just right. It's important for you to be totally happy in the end.