Living in this area of the country means you can get replacement windows in Plano, TX whenever you need them without worrying too much about the weather. After all, Texas certainly has milder winters than other regions. But there are benefits to getting the windows in the fall if that is when you end up needing them. If you have noticed that your windows are failing and you are ready for the process, fall window replacement can be an idea. Here's why.
The Best Weather
Installers work very quickly, and an old window can come out and a new one goes in with just half an hour's time. However, your home will be open to the outside elements for a short period of time with every window. While that can mean a lot of heat in the summer and a definite chill in the winter, in the fall, things are usually rather pleasant. As long as it's not a rainy day, you get the ideal weather for window replacement in this area of the country in the fall.
Adhesion Of Caulking
The temperature can have an effect on how the caulk sticks to the windows and the siding of your home. It needs to lie between a certain temperature range so things will stick and adhere well. That temperature range is easiest to hit in the fall. You want that caulk to adhere well so you don't have any leaks on new windows that you just shouldn't have.
Possible Promotions
The fall begins the slower times for window companies so it's quite possible they will have sales in order to entice buyers to move forward. There could be promotional offers, rebates, and other such things that you don't see at other times of the year. It's a nice perk to getting the windows in the fall over other times of the years.
Get Ready For Winter
Winter isn't that bad around here, but it is chilly and it's nice to have windows that are efficient working on your home before the winter months hit. You don't have to worry about high energy bills, but instead will be saving money when the heat kicks on. You can enjoy the comfort and have lower energy bills at the same time.
Easier Scheduling
Since window companies aren't as busy in the fall, you can get the timing for scheduling the installation on an easier level. You can pick when is convenient for you instead of having to take whatever you can get because of their busyness.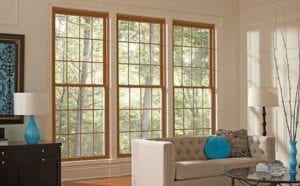 Getting replacement windows in Plano, TX in the fall can be ideal, but you should only get them then if you really need them at that time. If you need them over the winter, get them then. If you notice next summer that you are in need, replace them at that time. It's best to get new windows when your home needs them and the professionals at Foster Exteriors Window Company will help you whenever that need arises.