When you are in the market for replacement windows in Plano, TX, most of the windows you get will likely be double hung windows or casement windows. But you might want to get a few unique styles in certain locations in order to make your window job stand out as something special. You will enjoy your home more and give it more aesthetic appeal inside and out. Here are some unique options to consider as you look into the project further.
Garden Windows
Garden windows look kind of like rectangular boxes that jut out of the home. They are glass on all sides and allow you to place plants in the windowsill to grow things like herbs, succulents, or colorful flowers right there in your home. Many people like to put these windows in their kitchens so they can get the herbs they want fresh for cooking. You can even just use the windows for extra storage for statues or books if you want.
Bay And Bow Windows
Bay and bow windows are also very popular when it comes to unique windows. These windows, also, jut out of the home in a bow and allow you a wonderful aesthetic appeal on the outside of your house. The windows give you more space and light inside and can give you just the appeal and charm you wanted.
An Interesting Shape
You'll have to find just the right place for a window of this kind, but a window in a unique shape can be a nice touch. You might put a circular or octagonal window above a door or beside another window set to bring in more light and make the home look that much more special.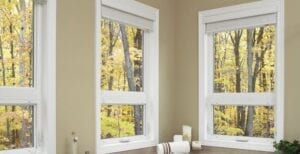 Sliding Windows
These windows are like double hung windows on their sides. They slide open and close side to side instead of up and down. They work great in spaces that you have more width than you do length. You might want to place one high on the wall above a tub in the bathroom so you still have privacy but can also ventilate. They also work well in dark hallways so you can get natural light into space with ease.
These are just a few of the unique replacement windows in Plano, TX you can get in order to make your whole project look that much nicer. Mostly, you'll likely get casement or double or single hung windows, but incorporating one or more unique styles can really make the project stand out as special. The professionals at Foster Exteriors Window Company are here to help whenever you need us. Just give us a call and we can set up a time that works well for you for a free consultation. We can come to your home, measure, see the challenges you face and make recommendations from there. We want you to end up with the perfect windows for every room and every goal you have for your home once the installation is complete.