When it comes to window replacements in Plano, TX, it pays to do your research. There are a variety of window frames and types of glass you can choose from, including wood, vinyl, low-E, and double-paned. It's essential to understand the benefits and downsides of each option so you can pick the best window frame and type of glass for your home. From wood frames to vinyl frames, from low-E glass to double-paned glass, you owe it to yourself to weigh all the options so you can make an informed decision.
Wood Window Replacements
Wood window replacements offer a classic, timeless look that many homeowners appreciate. They're relatively easy to paint and can be custom-made to fit any window size. Unfortunately, wood windows need regular maintenance to keep them in good condition, which can be time-consuming. In addition, wood window replacements are more costly than other types of replacements and can warp or rot over time if not properly cared for.
Vinyl Window Replacements
Vinyl window replacements are an economical and energy-efficient option for homeowners. They are resistant to external factors such as weathering, corrosion, and cracking, making them a practical and durable choice. Unfortunately, they lack the classic beauty of wood windows, and they cannot be painted to change their appearance. They also require minimal upkeep, making them an attractive option for busy and budget-minded homeowners.
Low-E Window Replacements
Low-E window replacements are the perfect way to reduce energy costs and increase comfort in your home. These insulated glass windows are coated with a special film that helps keep the heat inside during the colder months and outside during the hotter months. Not only are Low-E windows more expensive than other window replacement options, but they also provide superior insulation and energy savings. Additionally, they last longer, require less maintenance and block harmful UV rays. Investing in Low-E windows is an excellent choice to improve the efficiency of your home and save money in the long run.
Double-Paned Window Replacements
Double-paned window replacements are an excellent choice for creating an insulated barrier against the outside elements. They offer superior insulation against extreme temperatures, noise pollution, and fogging. They are more expensive than traditional single-paned windows, but the additional features and benefits make them worth the cost. Plus, they are designed to last longer, making them a great investment for your home. With double-paned windows, you can enjoy a more comfortable temperature in your home and have the peace of mind that comes with knowing your windows are helping to conserve energy.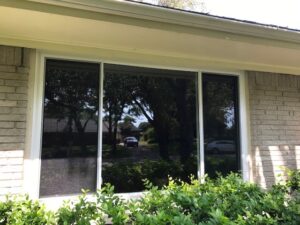 Conclusion
From the classic wood look to the energy-saving low-E and double-paned windows, each type of window replacements in Plano, TX offers its own set of benefits and drawbacks. It's important to research each option and make an informed decision. With any window replacement, you're sure to add value and beauty to your home, as well as improved energy efficiency and soundproofing. Plus, modern windows come with advanced safety features, such as shatter-resistant glass and tamper-proof locks, for added peace of mind.