You probably have dreams of robots chasing you or of falling with no end in sight. When you are asleep, do you ever dream of replacement windows in Plano, TX? Probably not. But the dreams you have when you are awake are important as well. They can help you figure out what direction you want to take with your life, or even within your house. If you have started daydreaming about replacement windows, there are lots of dreams the windows can actually fulfill. Here are a few to dream about…and then make come true.
The Dream Of Lower Energy Bills
When you get your energy bill, are you happy to see the bottom line? Most homeowners aren't because their home doesn't operate in an efficient manner, so they are leaking air and losing a lot of energy. It's a waste, really. And you might dream of ways you can create more efficiency in your house while paying less on your energy bills. This dream is easy to accomplish with new windows. They seal up the house and, even if you get standard options, raise the efficiency levels you have available to you. The lower energy bills are a guarantee when you get new windows for your home.
The Dream Of Higher Comfort
Your home should be a place of comfort. You shouldn't have to dream about being comfortable in your house, but if that's what it's come down to, you deserve to figure out how to make that dream come true. You can do that through new windows as well. The windows are going to give you an even temperature throughout the house so you can count on the comfort in every room without question.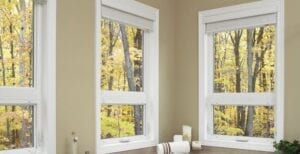 The Dream Of A Great Curb Appeal
You want your home to look like those newly renovated houses on TV, but that's just a pipe dream, right? It doesn't have to be. When you put in replacement windows, the house gets a new, fresh curb appeal. The windows look great from the outside and the whole house has an updated look. You might have to do some other things to finish off the exterior look, like paint the siding or update the landscaping. But getting new windows may take care of this dream or, at the very least, point it in the right direction.
You have dreams at night and while they might be rather odd and hard to describe, the dreams you have during the day, especially revolving around replacement windows in Plano, TX, are something you can actually take action on. The professionals at Foster Exteriors Window Company are here to help you figure out what windows are best for your goals, your specific home, and the budget you want to put into the process. Give us a call and we can answer your questions and set you up with a free consultation to help you get on the right path. Your dreams become our dreams and we want them to become reality for your home once the process is complete.