If you're a homeowner, then you know that there are many different types of replacement windows in Plano, TX, that are available on the market. But which one is right for your home? Here's a quick overview of the different types of replacement windows available to homeowners:
1. Vinyl replacement windows
Vinyl windows are a popular choice for homeowners because they're affordable and easy to maintain. Plus, they come in a variety of colors and styles to match any home.
2. Wood replacement windows
Wood windows are a time-honored option for homeowners who are looking to give their house a more conventional appearance. They are also incredibly long-lasting and may be altered to be tailored to the aesthetic of any house. They may either have a solid wood frame or a wood veneer over a metal or composite frame, and they can be stained or painted to match the rest of the trim. Additionally, they can be built of either solid wood or composite material.
3. Fiberglass replacement windows
Fiberglass windows are becoming more popular in recent years because they're extremely durable and energy-efficient. They're also available in a variety of colors and styles to match any home.
4. Aluminum replacement windows
Aluminum windows are a great option for homeowners who want their homes to have a more contemporary appearance.
Since window replacement is an important investment that can add significant value to a home, also consider the following types of window panes:
Double-paned replacement windows offer the best energy efficiency performance. They have two panes of glass that work together as a unit and block out air and sound. Double-paned windows are heavier than other types, but this tradeoff typically offers better resistance to wind and weather.
Single-paned replacement windows offer lower energy efficiency than double-paned windows, but they're lighter and more affordable. Single-paned windows don't work together as a unit, so they can allow more noise and air through. They also tend to be less durable in the event of a storm.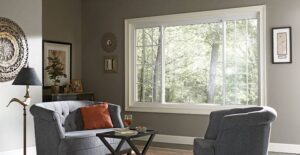 Thermal replacement windows use heat to replace the energy lost in window panes. The glass in a thermal window is made of high-energy polymers that absorb sunlight and then release heat when heated. This type of window is more expensive than other types, but it's also more durable and has a longer lifespan.
When it comes to features, replacement windows can come with or without grids and can be single- or double-hung. Single-hung windows have a fixed upper sash, while the lower sash is movable. Double-hung windows have both the upper and lower sashes movable, which allows for better ventilation. Some windows also come with Low-E glass, which helps reflect heat back into the room in winter and keep heat out in summer.
The cost of replacement windows in Plano, TX, will vary depending on the material, style, and features you select. However, there are a variety of ways to save money on your purchase, such as buying in bulk, checking for rebates or tax credits, and comparing prices from multiple retailers.