Getting replacement windows in Plano, TX can feel complicated if you have a lot of rooms with different needs. You'll want to make sure each room gets what it needs so your project ends up going well. You may mostly choose casement or double hung windows, but there may be certain places where stationary or picture windows work well, too. These are windows that don't open and remain stationary at all times. Here are a few places you might want to consider this type of window.
In A Room With A View
If you have a stellar view outside of your living room, having a picture window in place so you can see as much of it as possible might be the best way to go. You can put other windows in around it if you'd like, so you can still ventilate the space when you need to. But having that picture window in so you have as much of the view as possible is a nice idea.
In Darker Spaces That Need Light
If you want the most natural light possible in any particular room, a picture window is what's going to give you that. You can bring in more light because the window is larger and there is no interruption in the glass space so the maximum amount of light will come in. You might also want to consider low-E coatings on the glass since that will block the heat of the sun from coming in along with the light.
In Rooms With Operating Windows
If you have a room that has operating windows, you can place a picture or stationary window in as part of the block. You still have windows that open and close, but you also have the benefit of a stationary window in the same area. You could, for example, in a room with four casement windows all in a row, keep a casement window on either end, but place two stationary windows in the middle. Ventilate the room with the side windows and get the light, efficiency, and view from the middle windows.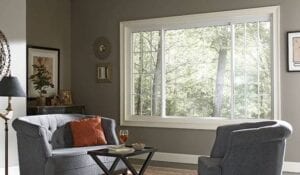 Where you put pictures or stationary windows is completely up to you, but the professionals in the window store can help you assess your needs and get your ultimate goals met after installation is complete. If you have certain priorities and a budget in mind, let them know and they will help. Stationary windows, because they don't have moving parts, cost less than other windows of the same size that do open and close. Scattering them in the right locations in your home can help you adhere to a certain budget.
When you work on replacement windows in Plano, TX for your home, there are endless combinations you could try. The professionals at Foster Exteriors Window Company will help you hit just the right combo to meet your budget, your goals, and your home's needs. We're here to help you experiment with options until you find the right fit for your house.